CORRECT POSTURE
The beauty of dance derives from Correct Posture and demands calm.
Stand with the feet together.
Hold fingers together, thumbs pegged in, energy running to the ends of the fingertips.
Place hands on upper thighs at a slightlydiagonal position, pointing inward, palms firmly against the thighs.
Tighten the lower abdomen and stretch the spine.
Keeping strength in the lower abdomen, keep the chest out.
Pull in the chin so that the top of the head is even with the ceiling.
Relax the shoulders, stretch the neck muscles.
Look straight ahead.
(page 24)
ETIQUETTE FOR THE JAPANESE STAGE AND IN JAPANESE STYLE ROOMS: Sitting, Standing, Bowing
In a Japanese room, or on stage, it is a basic courtesy to bow. To bow, one first sits on the floor, and traditionally one puts the left foot back first to sit, and the right foot forward first to stand. In this book, however, in order to keep the line of the kimono skirt neat, we put the right foot back for sitting and the left foot forward for standing. There is no hard and fast rule, the important thing is to sit and rise with dignity. While sitting, standing, or moving gracefully, do not lose the basic posture outlined above.
(page 25)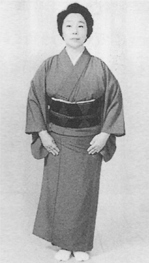 Correct posture example